I'll land in Iceland 3 weeks from today! My mom told me my Grampy, Alfonso Francis Lupinacci, dreamed of going there. He read all he could about it in National Geographic magazines. I didn't know that when I booked this trip. He died on my 6th birthday without ever seeing Iceland so I'm taking these pictures of us with me to show him around. I hope that somewhere along that path I feel his presence and that we get a chance to share a moment, standing in awe of that beautiful landscape together, after all these years. And I hope I can be the tour guide he always wanted to have.
25 years ago today, my father died. There are days in our lives that define us, and for me, that was the day, though not for the obvious reasons. That day, I walked out of a room that was dark and cluttered and confusing, and into another room that was empty. It remained empty for a long time.
There is a major reckoning that takes place when someone who made you leaves this planet, regardless of what your relationship was with that person. For me, that reckoning took two decades; longer than the time my father and I knew each other.
It only resolved after two decades because of my work with Brian. And it was work. It was not fun or inspiring work; it was, however, necessary. I did what I had to do to free myself. That was my only goal.
My father left this world without the two of us knowing or understanding each other. For a long time, I thought that was a sad fact. Now I realize how vital it was to my development; the day he died, I started to become who I am now. It was the day I began to build something from nothing. It is one of the two days I think of as life days, days when everything in my life shifted and there was no way to shift back.
I tell you this story not for sympathy or even empathy. I am long past the stage of needing or wanting either. I have adjusted, healed, and moved on. My point is that you may be in the midst of something difficult now, something that feels like it may break you, something that makes you feel like you may never be whole or at peace. You are in that empty room I walked into 25 years ago today. The space can feel overwhelming. The emptiness can feel like a void. It's not, I promise you. It's a canvas, a blank page, a stage. You will build something there, something that is totally of your own design. And there is no rush. You do what's right for you, when it's right for you. I look forward to seeing your masterpiece. Happy December 1st. I love you.
This Mother's Day, honor an amazing mom, or someone who is like a mom to you, by giving the gift of food and hope to mothers who are working hard to feed their kids with the help of the Capital Area Food Bank. It's one of my favorite charities because they support over 700,000 D.C. area residents every year who battle food insecurity. They've set up a special fundraising effort for us to honor mothers by helping mothers and families who are less fortunate: https://www.capitalareafoodbank.org/mothers-day/.
I honored my mom with a donation to CAFB this year and I hope you'll join me! And if you need a first-hand account of all of the incredible work CAFB does, read this story by CAFB team member Christel Hair:
"IN HONOR OF MY STRONG SINGLE MOM
Everything is a struggle when you're a single mom with kids. I know this first hand.
After losing my father, my mom was a single woman in the 70s with two girls to raise. It wasn't always easy, but she was smart, hard-working, and tough. Sometimes we ate whatever was on hand – Hamburger Helper, toast, applesauce, a vegetable. But she served up everything with love, and we felt comfortable and safe.
I followed her example when, years later, my husband passed away and I was raising two little boys on my own. I was fortunate to have a job and the support of my family, but there were still times when getting dinner on the table after a long day at work was a challenge.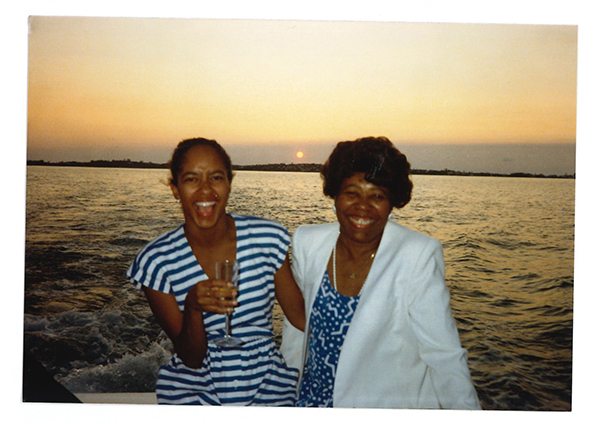 During my time at the food bank, I've met so many women who are working and raising children like I was, but doing it without enough food. And as hard as it was for me, I know it can be much harder.
This Mother's Day, honor an amazing mom – or someone like a mom – in your own life by giving the gift of food and hope to mothers who are working hard to feed their kids. Moms make sacrifices all the time. With your help, food doesn't have to be one of them.
And to my own mom: thank you for showing me how to lead and love my family with strength and pride."
I love this commercial for its focus on the use of technology to connect people across generations in a spirit of joy and fun. This is the promise I'm intent on fulfilling in my new role as the Director of Envolve Innovation Lab, a healthcare tech innovation center owned by Centene, where I will be working on artificial intelligence (AI), virtual reality (VR), and augmented reality (AR) products. I'm using my love of business, design, and technology to help people live healthier, happier lives. This is the kind of work I was born to do.
This week I was comforted, as I often am, by the words of Winnie-the-Pooh by A.A. Milne. "How lucky I am to have something that makes saying goodbye so hard."
My family faced a sad loss on Tuesday. Our dear family friend, appropriately named Faith, passed away. At the incredible age of nearly 85, she lived a happy, fulfilling life of service.  I was lucky to know her and she remains one of the kindest people I've known.
She was there for all of the milestones in my childhood, the good and the difficult. Birthdays, Sunday dinners, graduations. Her smiling face was there, camera in-hand to capture it all. She was a constant source of love and support. I think of her as one of my many aunties who helped me realize what kind of life I could have if I worked hard and was good to others. She instilled in me the sense that I mattered, and what I thought and felt and did was valued and valid.
When I heard she passed away this week, I was so sad. I felt a little light go out, but it was only a blip because immediately I felt that same light reignite, brighter and warmer than ever before. I'm sad that she's gone from this plane and I'm so glad that she crossed over to a place free of pain and discomfort. I'll see her on the other side, eventually, a long time from now. And I am as grateful for that as I am to have known her in this lifetime. RIL – Rest in Love.
The great gift of this last year is that I got to test out having a second dog to keep Phin company without the risk of it not working out. Otis was a fantastic companion for Phin, and still is. Now that we live across town, Phin is missing his buddy and today we're going to meet a potential forever match for him.
This morning we're trekking out to the great wilds of Arlington, Virginia to meet a terrier mix named, Gabbi. According to her foster mom, who is a professional dog trainer, Gabbi is about a year old, 20 pounds, loves every single dog and person she meets, and is equal parts playful and calm. Apparently, she is also a real clown who loves belly rubs. She's housebroken, crate-trained, and quiet with a penchant for chewing on antlers.
I've got high hopes for her. I want her an Phin to be best buds. I want her to put Phin's mind at ease and keep him company day in and day out. I want her to move seamlessly into the pack and settle into her forever home with us. That's a lot to put onto the shoulders of a little girl like her, and I have a good feeling about this. I mean, look at that smile!